UCSI 1Card: 5th Merchant's Day
Being a student and holding a student card brings a lot of perks. Cheaper movie tickets, cheaper public transportation fares, discounts at various eateries are a few perks more commonly known by students. However, UCSI takes the perks of holding a student card to a whole new level with our own special student card, the UCSI 1Card. The UCSI 1Card is one of the university's initiatives towards a cashless campus. This unique card is linked to a student's/staff's Hong Leong Bank account and serves as a debit card so it can be used to replace cash. In addition to being a substitute for cash, the team behind the UCSI 1Card has made connections with 160 merchant partners and over 320 participating outlets to give all UCSI 1Card holders incredible discounts and deals at these outlets. UCSI 1Card holders can simply check out the list of merchants and outlets who are collaborating with UCSI 1Card through the link below and flash your UCSI 1Card at any listed merchants or outlets to enjoy these deals and discounts.
http://ucsi1card.com/privileges
The 22nd and 23rd of July marks the UCSI 1Card 5th Merchant's Day which is held at Block A from 10AM to 5PM. This event provides a platform for partnered merchants to promote their deals and discounts as well as their special ongoing events to the UCSI community.
We collaborate with different companies to provide special rates for UCSI 1Card holders. We want out staff/students to feel proud that they are in UCSI and enjoy these benefits.

Ms. Tham Wai Mun – UCSI 1Card team


5th Merchant's Day – The Partners
Clayci Art
Clayci Art provides art classes for children as young as 4 years old and adults alike. The owner explained that she was a marketing student but decided to pursue her dream and started this business. She developed DIY clay sets which include step-by-step instructions so everyone could enjoy art.
Upper Room Boardgame
Upper Room Boardgame Cafe is a board game cafe located just outside UCSI University (above Citywrite Stationery). Customers get to enjoy board games and also have a nice meal which sounds like a great way to spend time and bond with your friends.
9 Studio Salon
9 Studio Salon is another neighborhood salon located right beside The Alley Taman Connaught. They are having a RM99 promotion for hair dyeing service and Hydra Hair Treatment for RM38 only. Those who are bored of their hair color should definitely head over there with your UCSI 1Card and try out a new hair color!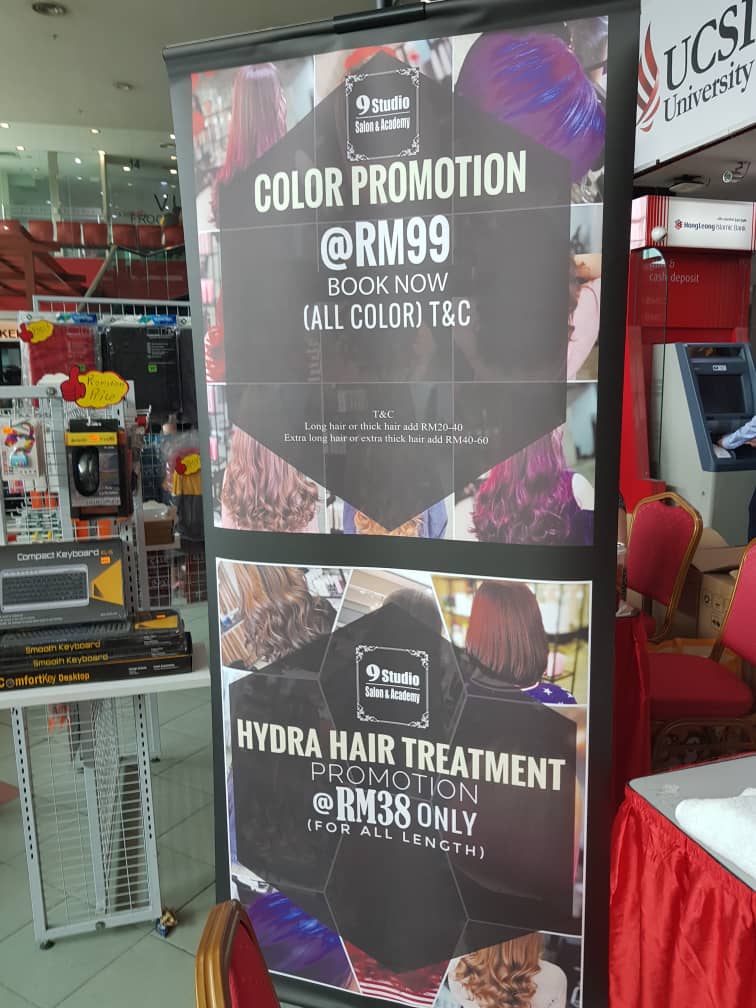 Laurent Bleu
Did you know that there's a little corner in UCSI University North Wing Campus that provides skincare and wellness services? If you didn't know before, well you do now! That little corner is called Laurent Bleu and they use all organic products and treatments developed by UCSI's researchers. They are now having a promotion for their relaxing facial sessions for Rm48 per session and RM78 for intensive ampoule facial. Their products are also on sale for 70%, so grab yours now at Block A while you still can!
Tang Herbal
Tang Herbal is located at Taman Orkid Desa (near Thai Boy). They specialize in Chinese Medicine and provide consultation on diets and herbal supplements for a healthier body. All the soup packets and medications are developed by their in-house doctor and specialists. All UCSI 1Card holders get to enjoy a 5% discount on all purchases as well as free membership. So if you're looking to change your lifestyle into a healthier one, why not start there with their expert consultations.
P.S. They are looking for designer interns too so do contact them at tangherbal@gmail.com if you are interested.
Overview
There are many more booths at Block A which I did not cover in this post as covering all of them would be way too much for me and make this post far too long. Hence, I only covered the booths I visited and found interesting. So, if you want to experience it for yourself instead of taking it from me, why don't you head over there yourself and visit all the booths there. With so many merchants there, I'm sure there is something for everyone and you definitely will find a deal or promotion which interests you.