Do you know all these clubs?Part 1
Hi guys! It's me again! Today, I would like to share with you guys a few clubs or organizations and initiatives which I had joined. There are quite a few clubs and initiatives in UCSI, especially from SEP and YBB program and feel free to check them out. All the clubs and initiatives in UCSI have their own vision and mission. The clubs and initiatives that I am going to introduce you guys in this post are what I had joined before or currently as a member of it.
UCC stands for UCSI Campus and Community. UCC prepares the students to become future community leaders who are productive, thoughtful and inspiring citizens. The students are given the opportunities to serve their communities through various meaningful connections with diverse cultural/ethnic groups. Through students' active participation, they learn to connect and build friendships with other civic-minded students. Together, they forge new dynamic teams that seek better understanding when they resolve social issues. UCC is a platform for scholars to experience and develop interpersonal skills through event engagement. It establishes close relationship and bonds among the members through encouragement and support. Basically, in the group, there are posts about volunteering projects and the program details, the outcomes are stated clearly. From what I know, before the pandemic, there are activities like gotong-royong, recycling program and volunteering projects. In my opinion, UCC volunteering is a great opportunity for us to join as we have to give back to the community as well. UCC is able to create a bigger impact and increase volunteering awareness among UCSI students which are very good because it is our time to contribute to society in various kinds of form.
I joined UCC when I was in my foundation year. As a scholar, I have to collect UCC Points and I have to collect 100 points per semester. Hence, I joined a few volunteering projects, including facilitating the programs and events organised by internal (initiative in UCSI) and external parties (companies outside) as they need our help to ensure a smooth event run.
During this pandemic, UCC is trying to uplift and increase members' soft skills. They are collaborating with quite a few parties, like Project ID, GreenUp, SOLS. You can always participate in the events that you are interested in to increase your self-value as well. The below post is an example, in which you are able to learn how to use google sheets, especially in secure the data. The learning outcomes are stated as well.
If you are joining SOLS Series events, mostly it is 1 hour and you will receive the certificate by SOLS 24/7 after you complete the event. It sounds good right.
For now, I suggest you guys can go visit their FB page first. If you have any questions and feel like interested to join UCC, you can approach them via FB or drop them an email.
If you are don't know what is student ambassador, basically more and more universities are utilizing their current students as their best advocates and ambassadors to promote university enrollment. A student ambassador is the voice and face of your institution, someone that prospective student enquirers can turn to for information about applying to your school: both the practical, and the experiential. In UCSI Student Ambassador Program (read this), there are three teams, which are Digital Content Ambassador, Social Media Ambassador and Event Ambassador (check out the committees here).
Event Ambassadors are in charge of ushering and facilitating potential students and parents who are visiting UCSI on open days. They are the one who guide and lead them to look around UCSI while explaining to them the function of the respective blocks. Besides, Event Ambassador are very important as they are they will give the potential students and their parents the very first impression about UCSI students and they have to familiar with the activities happening in our uni as they need to answer their enquiries.
Social Media Ambassadors are in charge of UCSI's social media platform. For your information, they will do the posting on instagram (@ucsistudentlife)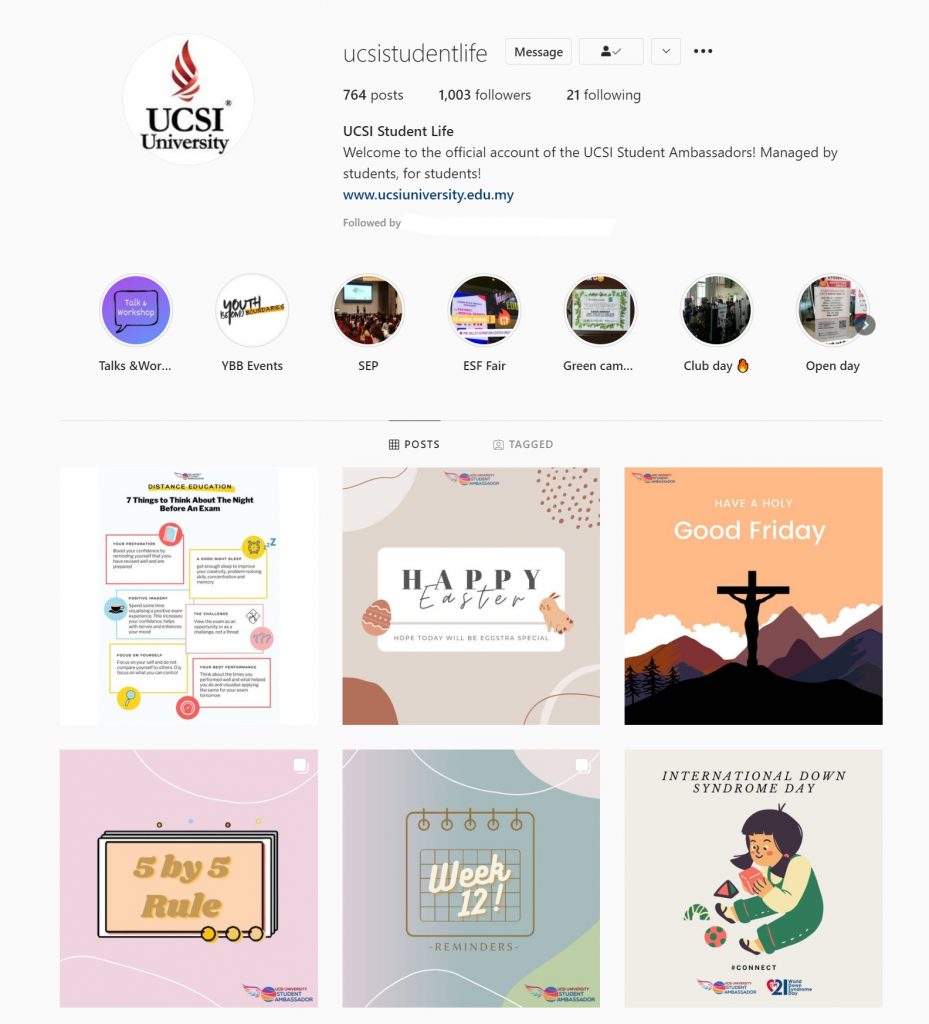 As you can see from the photo, they are frequently updating activities and events happening in UCSI. Simply to say, they are documenting UCSI's student life on the 'UCSI Student Life' Facebook and Instagram pages. Besides, they engage with students by festival celebration greetings as well. They design the poster and create the content themselves. Follow them! 🔥
Next, we have Digital Content Ambassador, the team that I have joined since 2019. Digital ambassadors must be great communicators. Digital student ambassadors tend to work more independently from other ambassador or student roles. Hence, we develop creative campaigns and ideas, come up with blog/video content ideas, write our own pieces, and commission content from classmates if need be. Besides, Digital Content Team are working together with the Social Media Team in planning, creating and distributing content and editorial calendar. Like me, all I have to do is write posts about the topic I am interested in and share with you guys anything about my student life as a 'UCSIan'. It serves a platform for us to share our university life to others and I think it is a good way to express ourselves as way while helping others to know UCSI student life even though I cannot represent whole UCSI student.
3. English Language and Communication Student Association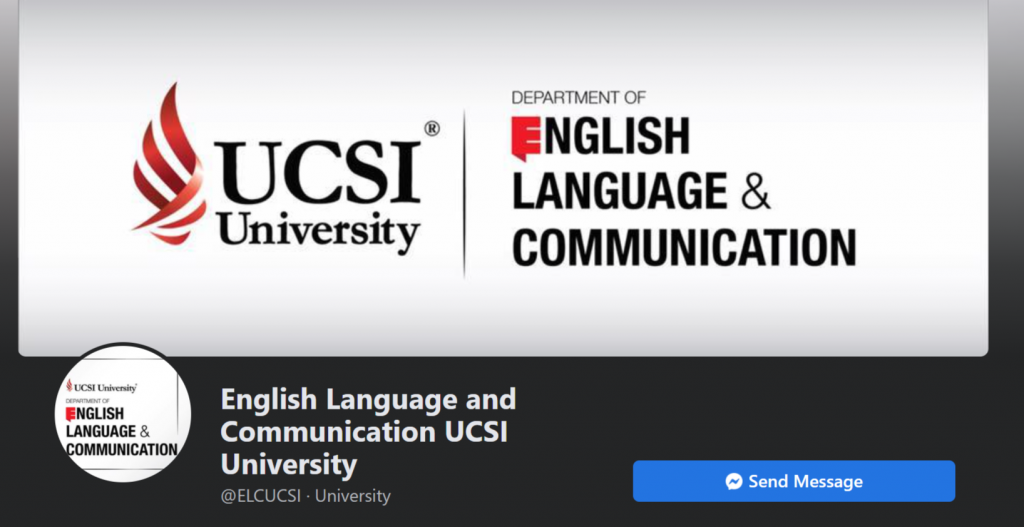 Like what I mentioned in my previous post, I am a language student and I am currently a Year 3 Sem 1 student in May-2021 semester. All ELC students will automatically join as ELC Student Association (ELSA) members. Basically, ELSA is a student association for students studying in English Language and Communication (ELC). We organize events and program regarding the theme related to what we have learnt throughout the course. The advisor is our ELC Head of Department, Dr Latha.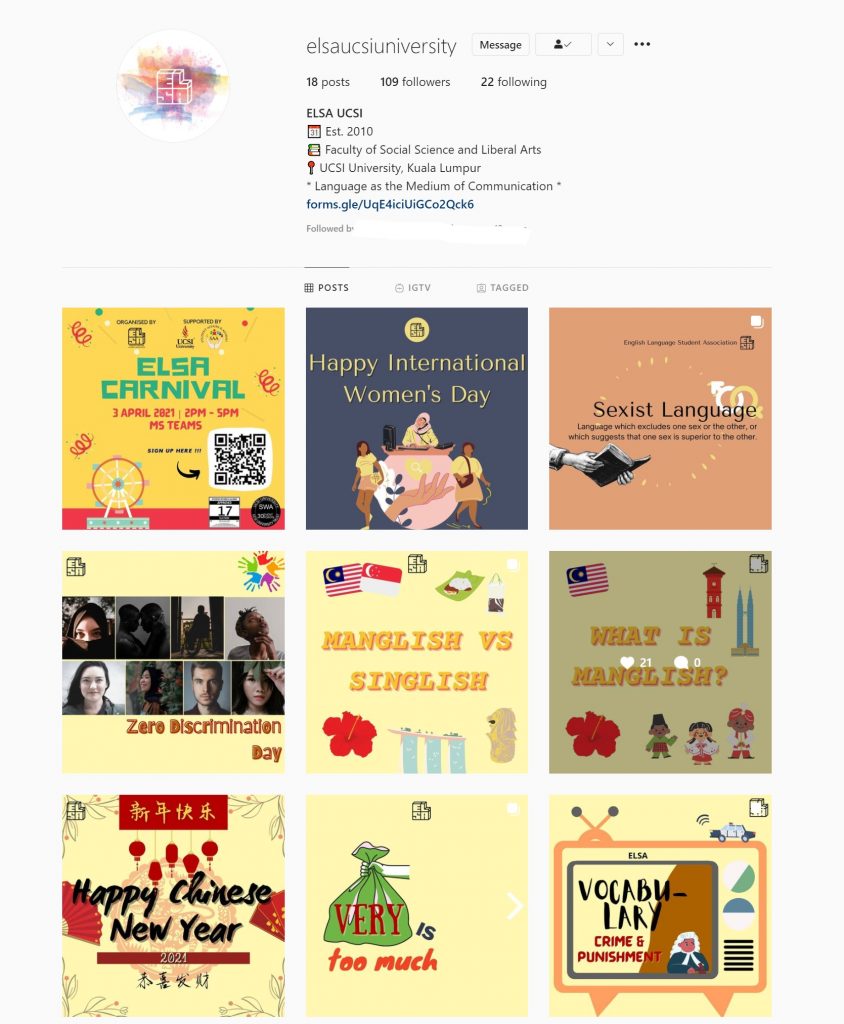 This is ELSA Instagram account. You can see we constantly provide English related information and knowledge. You can always get surprise by the another side of English that even some of the native Engslish speakers might not know. Check it out!🔥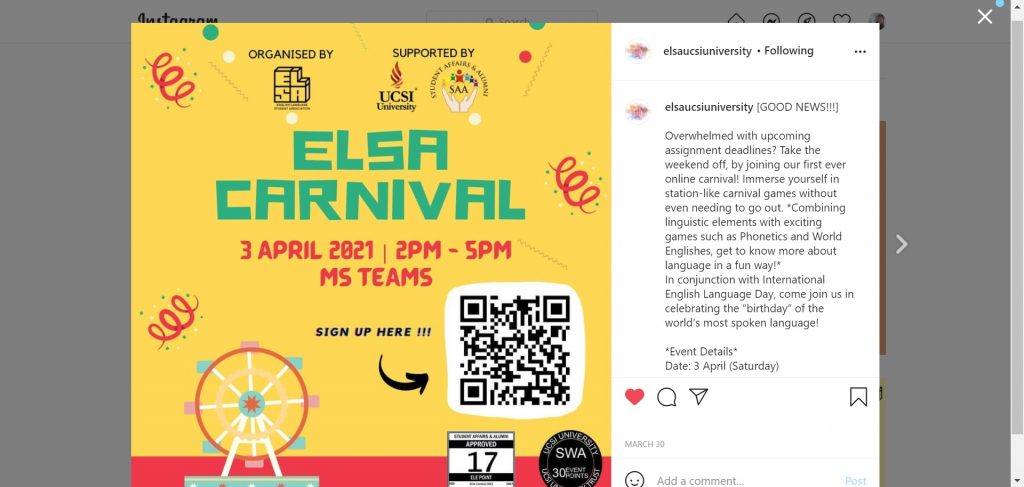 This was their previous event. If you want to have any collaboration with them in the future, feel free to drop them an email as well.
I think that's enough for this post. In the coming post, I will introduce you another three clubs that I had joined. Stay tuned!
However, if you have any questions regarding anything, feel free to drop me an email at [email protected]