Don't say Bojio! Let's go Glamping!
Look at this!!! Isn't it so beautiful????😍😍😍
Let's forget awhile the increasing cases of Covid-19 recently! Let's forget the 1st digit number of the cases (you know, it is 2 or 3 😥)! Anyway, today I am going to introduce you guys all about glamping!
Actually why I came up with the idea to write this topic is because I am actually planning to go for glamping after I go back to KL one day and definitely when the cases are not that high anymore. Besides, I have done my research about the glamping site and I just feel like I am so excited to share with you all so that you can take it as a reference as well. Anyway, let's pray harder so that we all can back to normal life!
Before that, I think we can understand what are the difference between camping and glamping. For your information, "Glamping," is short for glamorous camping, has become a mainstay of outdoor recreation over the past decade.
If you're traditional camping, you're typically taking a tent to a remote location and creating your own makeshift shelter to truly enjoy nature. Just you, your sleeping bag and a tent. While glamping, you're still enjoying all that nature has to offer, but you don't necessarily want to part with that cozy, homey vibe.
Camping: Tent camping includes bringing your own tent and setting it up in a remote location to experience nature in its most simplistic form.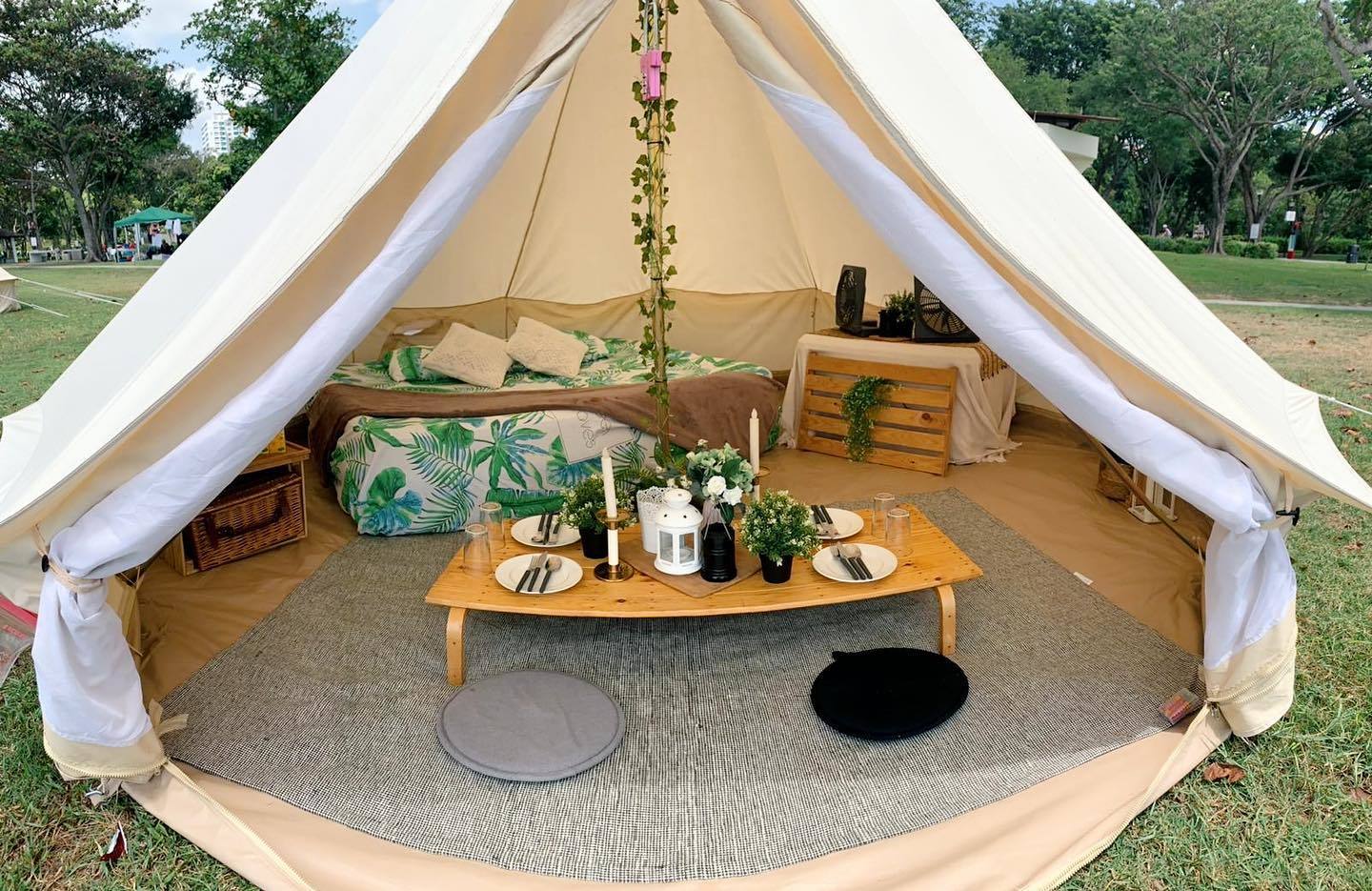 Glamping: It includes a framed shelter already set up in a natural environment with amenities such as a refrigerator and electricity. It is also only a few miles from restaurants and attractions. Some of the glamping sites include a comfortable queen size bed with clean sheets under a see-through dome looking up at the stars.
Camping: Most campers don't shower at all, it comes with the fun of camping. However, there are a few portable ones if you cannot stand the smell any longer.
Glamping: Glampers, on the other hand, have fully functional bathrooms, generally with at least nice showers.
Camping is, generally, the cheaper option in terms of how much it costs for a night's stay. Glamping can cost more than most hotel stays if you go for something really swanky. Camping does have the initial outlay of buying tents and the various camping accessories, but most of them are investments that you won't have to replace very often. On the other hand, the premium you pay for glamping covers two things: luxury and ease. Glamping is intended to be a more luxe experience than camping, and that can mean real beds and bedlinen, access to private showers and toilets, electricity, wi-fi, a fully-fitted kitchen — almost any modern amenity you can think of as I mentioned previously.
To know more about camping vs glamping, check out this and this posts.
---
I hope you can already get some ideas about glamping and I want to recommend or share what I found about glamping. I promise this is not a sponsored post xD)
Like I said, I actually plan to have glamping with my bunch of friends, that's why I plan and did some homework.
To suggest a glamping site to you, I would definitely suggest River and Glamping Ulu Yam. It is 41 minutes journey from UCSI by car and it is 15mins away from Batu Caves.
Feel free to check out their social media accounts and website so that you can get more posts and exciting contents about all the place!
Actually, there are quite some activities that can be carried out there. For instance, cycling which you can actually rent their bikes, river tubing for you to have a fun experience of enjoying the river, ATV Ride around the resort to create new adventurous memories with your gang. Besides, it is actually free to access to the clean river.
These are 2 packages for you to choose, either 2 days 1 night or 3 days 2 nights. From Sunday until Thursday, it is considered as weekday package and Friday- Saturday, it is considered as a weekend package. The package are actually including meals and facilities in the tent like the portable fans, portable aircons, kettle and beds. Since the check-in time is 2 pm and the checkout time is 12 pm, the meals covered are 1st Day dinner, 2nd Day Breakfast and Lunch. Oh ya, they do provide food for vegetarian as well. Hence, if you are a vegetarian, you can Whatsapp them and I would say they are vegetarian-friendly.
How about the additional charges that you might need to considerate?
As you can see, an extra charge of RM50 is imposed for the barbeque grill. However, you have to bring charcoal and other equipment. After I asked the staff, there are actually BBQ packages which include the seafood, meats and vegetables prepared by them for you to choose from and you can request to have the packages via WhatsApp. Besides, there is actually a campfire there and you can share it with other visitors as well.
How to book your time? After you discussed with your friends about the package and itinerary, all you need is to call or WhatsApp them to ensure the available dates so that you can decide a date. If you are concern when the CMCO or MCO will be lifted, from what the staff told me, they won't charge any additional fees for you to change the dates but it is not refundable.
In addition, I can say River and Glamp is a very nice place to visit as I think it is very instagrammable, suitable for team-building activities, convenient location and affordable price. If you have any concerns and questions, you can get their contact number via the website. Once again, check out their Facebook for more videos and Instagram for more reviews.
I am looking for partners and friends to visit this place and if you are interested to have a glamping experience, feel free to join my friends and I by dropping me an email: [email protected]