What is AIESEC? Have you heard AIESEC before? How much do you know about AIESEC? Why did I join AIESEC?
AIESEC that was founded in 1948 is a global platform for young people to explore and develop their leadership potential. AIESEC is a non-political, independent, not-for-profit international organisation run by youth and recent graduates of institutions of higher education. AIESEC is the world's largest youth-run organisations that believes young people are the one who hold the key to unlock a better future. AIESEC empowers young people to take practical experiences that develop their leadership potential so that together, we can create a better world. It has 29,546+ members worldwide, 7890+partners organisations in 120+ countries and territories. Until now, we have over 1,000,000 AIESEC alumni. AIESEC also cooperate with a selected group of organizations on programs and activities with a local, national and global reach.
I applied for my membership in AIESEC in UPM (Universiti Putra Malaysia) since Feb 2021. AIESEC in UPM is one of the entities in AIESEC in Malaysia established in the year of 1989. Today, AIESEC in UPM has more than 500 memberships including alumni. AIESEC in Malaysia has around 18 branches, like AIESEC in KP (Kedah-Perlis), AIESEC in JB (Johor Bahru), AIESEC in TU (Taylor's University), AIESEC in UM (Universiti of Malaya), AIESEC in UNMC (Nottingham Malaysia) and so on. Actually, UCSI students who like to join AIESEC can do so by applying recruitment for membership in AIESEC in UPM. (If you are interested, remember to follow IG account and FB page for more information. Stay tuned!)
Vision: We continuously enable and empower youth to be purposeful who create a change through leadership development.
Our Aspiration: Sustainable growth, purposeful action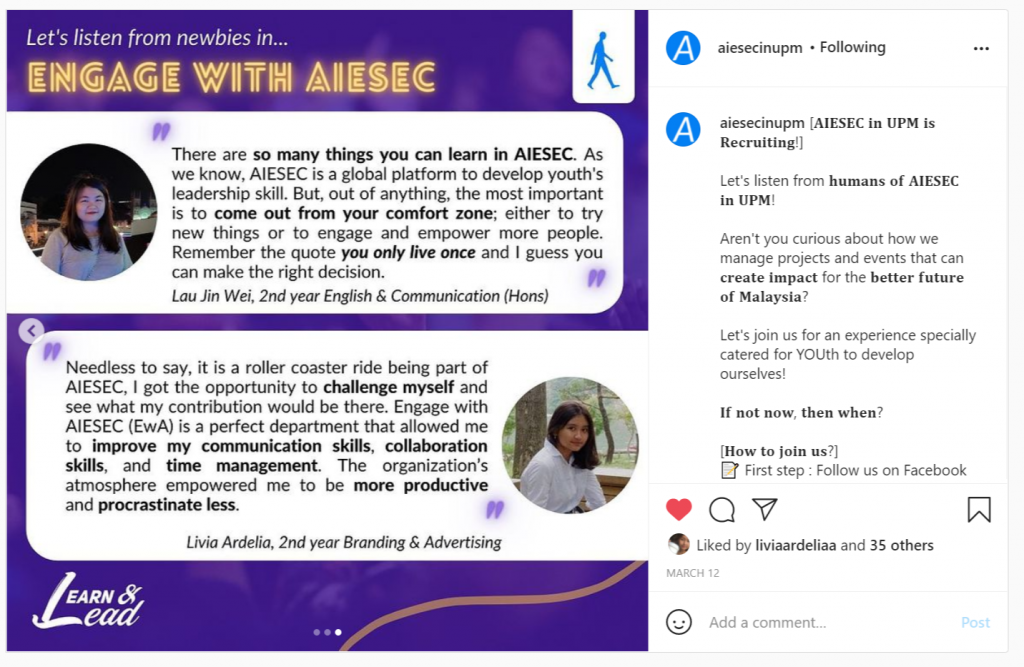 【What have you learnt in AIESEC? 】This is what my friends asked me when they know I join AIESEC.
I have learnt so many things because they are so many things I don't know. Join me if you want to know. This is what I answered to every one of them.
There are so many things you can learn in AIESEC. AIESEC is a global platform to develop youth's leadership skill. But, trust me, out of anything, the most important is to "come out from your comfort zone" – either to try new things or to engage and empower more people. Don't you think AIESEC is a perfect platform for you to give it a try, to learn and develop and lastly to spark and unleash your talents? Remember the quote【You only live once】and I guess you can make the right decision.✨
In AIESEC in UPM, I am in Engage with AIESEC (EwA) department and work as a Junior Executive of Marketing and University Relations. For your information, I am in charge of designing poster and creating content for AIESEC in Malaysia 1 Fb and Instagram. Meanwhile, I also need to looking for partners like clubs and societies from other universities to form collaboration with them.
---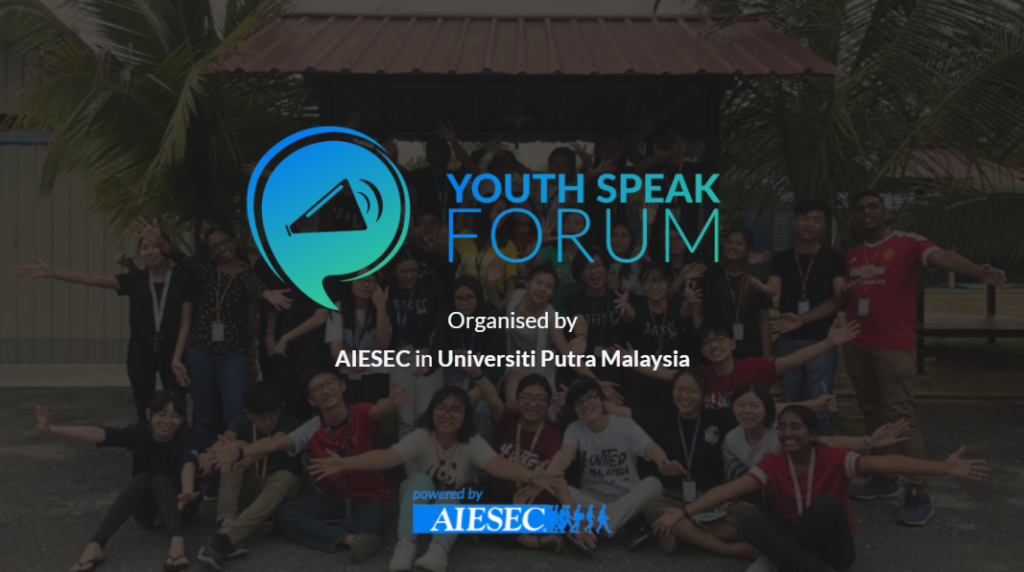 Anyway, we have an upcoming event, Youth Speak Forum 2021, check out the booklet.
Youth Speak Forum is an event organized by AIESEC that takes place in multiple locations around the world, bringing top young leaders together with business leaders, thought leaders and experts for a conversation around youth contribution to the globe.
The aim is to generate actionable ideas that will impact the world. We make this happen by developing our forum programme through the unique interactive framework of Empower, Engage, Commit.
As part of the committee in the Youth Speak Forum, I recommend you guys to join this event as the topics and keynotes sessions prepared are very interesting and useful as it prepares us for the workplace. If you have any questions or want to know more about it, feel free to drop me an email: [email protected]
---
There are 2 products in AIESEC, Global Volunteer and Global Talent.

So What is Global Volunteer? Basically, before the pandemic, AIESEC in Malaysia send volunteers from Malaysia to do volunteering projects outside Malaysia and we accept volunteers outside Malaysia to do their internships in Malaysia. However, due to this pandemic and we can't travel abroad, AIESEC is doing local virtual volunteer projects. The recruitment period is from April-May. If you are interested, you can fill up the interest form.
By becoming a volunteer in AIESEC, it develops your leadership through a volunteering project contributing to the Sustainable Development Goals.
There are a few benefits you join as Global Volunteer. Firstly, you can experience new cultures. There's nothing like being in a brand new country, living and volunteering with people from all around. Imagine the things you'd learn! Next, you are able to make an impact! On a Global Volunteer project, you work towards tackling the issues you're most passionate about. As I mentioned, the volunteering projects are contributing to Sustainable Development Goal, you are able to create impactful change to a community. Besides, it is a challenge to yourself. Do something new, get out of your comfort zone and discover the best version of yourself. You will never know how capable you are!
AIESEC in UPM is recruiting volunteers from April to May. There are a few projects such as zero waste, education, food waste and cancer awareness. The above poster is one of the projects which collaborate with WeCare and if you are interested or want to know more about the Local Virtual Volunteers projects, please Whatsapp ShinYee (601120774066).
---

What is Global Talent? It is more or less similar to Global Volunteer but it is more focus on internships. We develop leadership while boosting your career prospects through an international internship. AIESEC in Malaysia send people who want to do their internships to other countries and link them with top companies. Meanwhile, we accept people who want do their internships from other countries to Malaysia.
There are a few benefits we can gain. Firstly, you can gain experience in new cross-cultural settings, equip yourself with new skills and add value to your workplace because the companies want international talents. Besides, AIESEC in Malaysia will find the industry for you. As their pool of opportunities are growing across fields – they can help you to find one best fitting your background and experiences. In addition, AIESEC's partners are dedicated to providing you with an enriching leadership experience sure to put you ahead of your peers.
---
All in all, if you want to develop your leadership skills and looking for a platform to have fun, I would suggest you consider AIESEC as it is run by a bunch of youths for youths. Again, just email me when you want any advice or suggestions.