The Pineapple Festival (Pesta Nanas)
Hi, guys! I am currently enjoying my semester break back in Sarawak. My hometown, Sarikei has been known as the "Pineapple Town".
            Back in 1970s, the first pineapples were planted in Sungai Sawang, Parit Tengah, Parit Bugis, Sungai Salah, Sungai Sageng and Bukit Kinyau area in Sarikei. The pineapples were then sold at the Sarikei Jetty to express boats and ships stopping over on the Kuching-Sibu-Sarikei route. The passengers who transited or had a final stop at Sarikei Jetty bought the pineapples and impressed by its unique taste. "Nanas Sarikei" soon became the passengers' favourite as snacks and gifts. Nanas Sarikei actually refers to the "Moris" species which is the most popular cultivated species at that time. Besides "Moris", there are also species like the "Paun" or "Madu" pineapples. On 12 February 1998, pineapple was appointed as the fruit icon of Sarikei and the Sarikei Pineapple Festival has been manifested in the establishment of the Sarikei Division Tourism Task Group. The very first Pesta Nanas Sarikei was held in 2003. The event is carried out annually since then.
            I am going to share with you about Pesta Nanas 2019 that was held from 22 November 2019 to 1 December 2019. During the festival, there were a lot of events going on. The Agricultural Expo exhibited and promoted all sorts of local agriculture related products including local fruits, vegetables, livestock like goats, deers and cows and the products derived from them. I personally like the goat milk handmade body soap and the fresh goat milk ice cream. Competitions on products sales, size and quality of local fruits cultivated were carried out. I have missed this year largest fruit display but I still remember all those giant durians, pineapples, bananas and jackfruits in previous years. There were some talks and talent contests going on in the Civic Centre nearby for the festival.
            During the festival, the night market was set up starting from 5p.m. until late at night. Stalls are set up around the Central Market to sell snacks, street food, drinks, toys, tradisional clothes and musical instrument and performance. My mom often bought us some food for dinner during the festival to ease burden of preparing dinner. My favourites are the Roti John and kuih topi. The night market is usually crowded from 6p.m. when most people went shopping for dinner after work and the school kids hanging out with friends.
At night, there are performance by invited local stars, lucky draw, bodybuilding competition, beauty pageant and cosplay contests going on in the Civic Centre. I did not stay for the night events so I just share the poster below.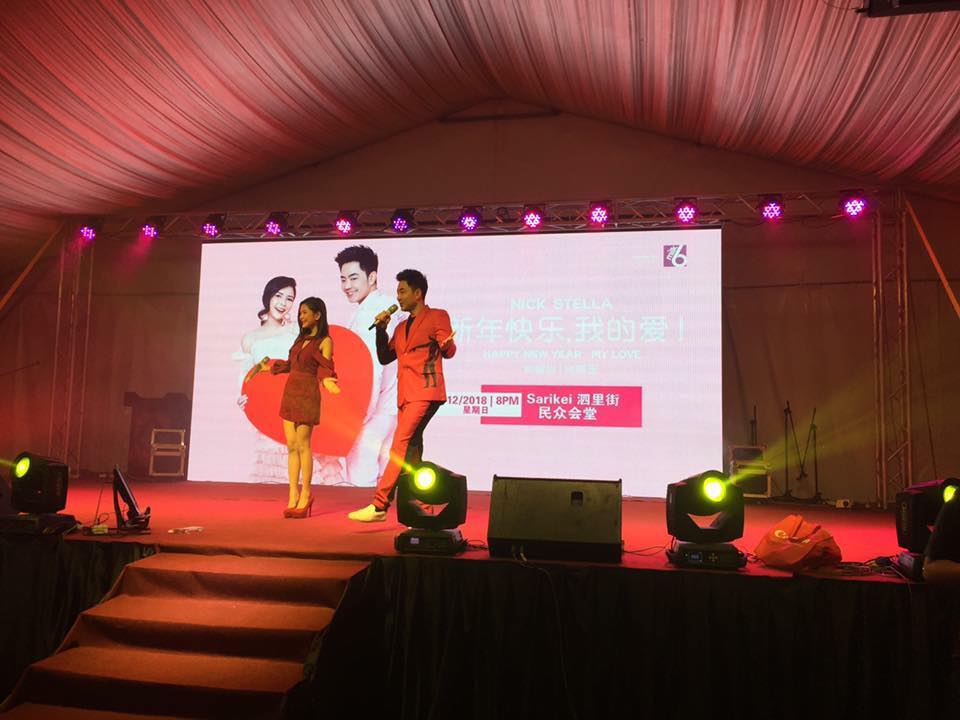 Night market may seems normal to you but it is one of the special annual event for people in Sarikei that averagely go to bed before 10p. m. We seldom stay outside until late at night. The event is a town festival where most people living in villages in "ulu" Sarikei to come all the way to town and have fun. It also provides an opportunity for people to hang out since the town is quite lack of entertainment.
            Sarikei Pineapple Festival (Pesta Nanas) is an annual event in my town that gather people to have fun, putting work and stress aside. It is one of my childhood memory, which I will never forget. I miss this festival even after experiencing the Taman Connaught night market.